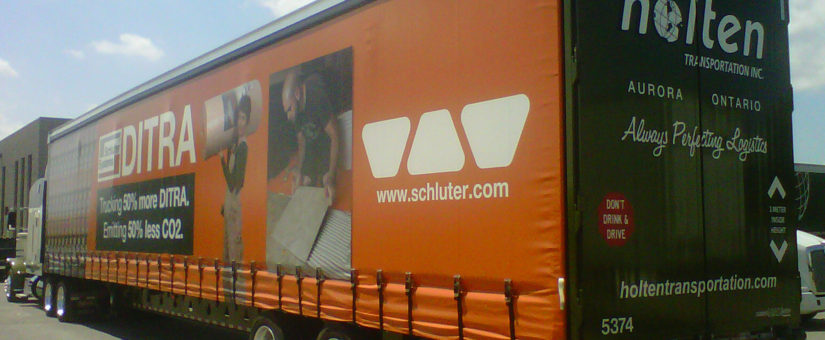 European trucking technology has long been fascinating to me, and I often wonder why more of it doesn't find its way across the pond. Especially on the trailer side. 
Sure, with cross-Atlantic ownership of truck makers, going in both directions, the ocean has been shrinking quite a lot. Engines and other major components have become truly international in recent years, with versions of essentially the same thing seen here and there and elsewhere. The most obvious example may be the current crop of Detroit engines, built here, in Germany and in Japan as well for use across the globe. 
First-tier suppliers like ZF and Meritor and Bendix are part of the same phenomenon, and cross-pollination is increasingly the rule for them. Makes perfect sense. 
But trailers? Not so much. 
Why is that? A zillion reasons, I suppose, like extreme differences in roads, loading docks, weight allowances, you name it. Plus, I think Europeans have a higher tolerance for relatively lofty prices in their trucking equipment. And some routinely seen Euro freight-hauling trailers really aren't cheap. 
Given all that, I'm mighty intrigued by a project I just heard about right in own my backyard, one that combines European and North American trailer and truck technologies — and delivers one happy, environmentally conscious shipper a 50% increase in load capacity. It's a curtain-sider with a twist or three, a prototype that would seem to have a commercial future. 
The base trailer is a Manac, the curtain-side 'body' comes from Pacton Trailers in the Netherlands, and Durabody Industries married the two. The tractor is a specially spec'd Peterbilt Model 388. 
IT STARTED WITH HOLTEN IMPEX, a tile importer and distributor in Aurora, ON, just north of Toronto, a family business headed by Ton Holten. It's significant that he emigrated here in 1980 from Holland where the family owned a trucking company, so he brought with him direct knowledge of European trailer technologies. With the tile distribution company well established, the business ultimately expanded to include a trucking company. 
Holten Transportation Inc. was founded in 2004 by Ton's son Dave, who saw the potential to exploit the empty miles being driven by their three trucks after their tile deliveries were done. It grew from those three units dedicated to Holten Impex to nine for-hire trucks and a cross-dock facility in Aurora. 
That sets the stage for the moment a couple of years ago when the Holtens noted an opportunity for a company that was shipping rolls of underlayment for tile to their distribution warehouse. That was tile supplier Schluter Systems North America, based in Montreal and Plattsburgh, NY. Van trailers were arriving with very light underlayment on pallets, stacked just two high. 
Holten approached them with a proposal that would increase their payload by 50% by substituting the pallets with slipsheets and using a trailer with 119-in. inside height. He wanted three high. Schluter president Reinhard Plank, always trying to be environmentally responsible, told Holten to go for it. And why wouldn't he? 
The trailer is called the Mega Max 300. 
SO, WHICH TRAILER TO START WITH? Holten spoke to several manufacturers, but found Manac "most willing to listen" and their engineering department "very helpful". They created a steel flatbed with a modified neck — not a dropdeck — including a Hendrickson fixed 60-in.-spread tridem with dual low-profile tires. It's all California-legal. 
"Very soon we will be able to put 445×40 22.5 singles on it for improved roll resistance," Holten says. "These tires are not available in North America, but will come when demand soars."
At his request Pacton Trailers in Holland redesigned their curtain-sider assembly for the North American market (we're 5 cm wider, 2.5 cm longer, and 15 cm higher here — that's 2, 1, and 6 in. respectively). Given the three-high load height, a forklift pilot needs extra room to drive into the trailer, so the roof has to be lifted while loading. Each corner post has a manual pump which lifts the roof 2 in. at a time. 
Holten says they used a very tight fixed-curtain system under a thin aluminum roof with thin bows, so the maximum running height of 13 ft, 6 in. isn't exceeded. Interestingly, there are three settings for the height so the driver can lower the roof to pick up return loads in areas with lower underpasses. The option of a retractable roof is possible. 
The trailer can be loaded from three sides, and the sides are protected with adjustable aluminum 'planks' with logistic slots and raiseable heavy-duty hooks in the bottom siderail to fasten straps when needed. 
The deck height is set at the rear for 40.5 in., and the airbags can lift the deck to 48 in. to reach dock height. 
Holten had previous experience with Durabody Industries in Bond Head, ON, which had built some truck bodies for them earlier, and they were asked to fit all this together. 
Finally, they installed an Air-Weigh onboard scale system to give the driver as much information as possible while loading.
The actual payload for this unit is as high as 41,500 lb in the U.S., some 27 tons in Canada, though for Schluter hauls Holten needs only 30,00 lb max. In order to optimize the trailer, they chose the spread tridem, hence the higher payload capacity. The next trailers will be tandems, says Holten. 
AND NOW THE TRACTOR, where the key challenge was fifth-wheel height. In Europe, says Holten, it's easy to get a low height, but not here. He turned for help to Peterbilt Ontario and found the factory was willing to create the tractor he wanted. Well, not exactly. In order to get the low ride desired, Pete had to use their classic Model 388, while Holten would have preferred a more aerodynamic truck. 
Peterbilt modified the front axle and got a lower tandem out back by using a 6 x 2 setup. A low fixed fifth wheel from SAF Holland was used to reach the right height, quite a lot lower than usual. Fuel tanks were adjusted accordingly, and the exhaust system was changed to a horizontal setup. A Groeneveld automatic greasing system was installed. 
The tractor rides on Continental 295×55/22.5 tires on the drive axle (with disc brakes) and 295/60 22.5 on front. 
Finally, the graphics were done by Motive Media of Mississauga with bold reflective lettering to make sure the truck is obvious, not just at night. 
WHAT'S THIS RIG'S FUTURE? Given that this very carefully designed tractor-trailer was only completed this past weekend and has yet to turn a revenue mile, it's too early to say where this is going. 
The trailer is intended to supply Schluter's distribution center in Plattsburgh, with return loads of tile product going to Aurora via Montreal. Its maiden run should happen this week or next, so evaluations by all parties will be rolling in over the next month or two. 
Holten notes that there are many types of freight that a trailer like this could haul, including work in the LTL arena. The potential is significant, it seems to me too, in automotive parts applications, for instance. Furniture, insulation… the list could extend a fair way. The potential efficiency gains are seemingly quite real. 
Manac likes the idea of taking it further. 
"Manac was excited by the project and is prepared to build on a larger scale," Garry Payne told me. He's the trailer maker's territory manager based in Mississauga, ON. "We have identified an emerging requirement within the marketplace with this build, and look forward to the possibilities in the future." 
One of the best things about this project, says Ton Holten, is the co-operation evident among the various players — shipper, carrier, and several manufacturers — working together to effect a meaningful environmental gain that also makes excellent business sense. That 50% payload gain is big, and it means two trucks can do what used to require three. 
I'll follow this one for sure, and I'll keep you posted. In fact you can look for a feature article in the September issue of Today's Trucking, at which point I'll know a little more and will have more pictures to offer. 
AND A NOTE ABOUT MERITOR, which took a few journalists over to Italy recently to show off their plant and R&D lab in Cameri. My colleague Steve Bouchard, editor of our Transport Routier magazine, flew our colors. Here's what he had to say… 
The axles made in Cameri are mainly for the European market, but the technologies that are developed there often end up on axles that Meritor offers here in North America. If the 14X axle is Meritor's 'flagship' here, the 17X, and the 17XEVO version launched last fall, are the company's equivalent in Europe. The 17X was introduced in 2007. 
More than $55 million have been invested at the Cameri plant in the last seven years, including a new laser-welding assembly line. In fact, it's the first plant to launch a laser-welded differential assembly, which allows for very rigid axles that can withstand high torque levels and enhance axle durability by 30%, according to Meritor's lab and field tests. Now it's working on what it calls the first intelligent axle system. Journalists were shown a prototype of the 17XEVO axle equipped with the LogixDrive system, which was presented for the first time in 2012 and is currently being tested in some European fleets.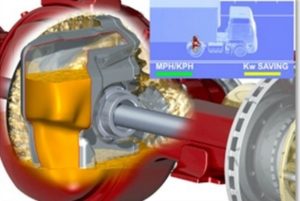 Meritor says that LogixDrive addresses the two main areas of power loss in axles: gear and bearing friction and oil churning due to gear rotation. Adding or reducing lubricant on the gear set during the vehicle's operation improves efficiency and fuel savings, as well as reducing lubrication breakdown. 
The system uses an internal reservoir where a certain amount of gear oil is stored when the axle does not need it — for example, if the truck brakes or is driving at low speed. The tank hold about 5 liters of lube, making the amount of oil in the axle itself range from seven to 12 liters depending on the driving situation. If a larger amount of oil is required to cool the system — when cruising or going up a hill, for instance — the device will automatically transfer several liters of oil from the reservoir to the axle housing. When the gears can rotate with a lesser amount of oil, parasitic losses caused by the churning of the lubricant are lower. 
Fabio Santinato, chief engineer of axle engineering Europe, says this technology provides a fuel economy gain of 0.1 to 0.2%, "a small but measurable improvement." The manufacturer is currently evaluating whether the LogixDrive system can also reduce operating costs and increase the life of the axles.