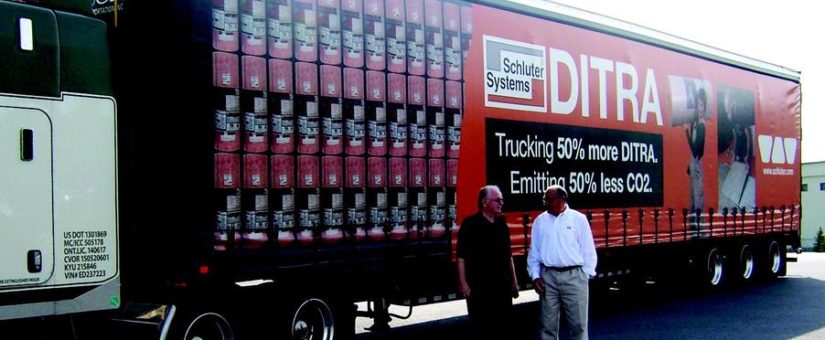 PLATTSBURGH — An innovative new trailer design made its first delivery to Schlüter Systems Thursday morning, carrying promise of boosted efficiency. The Mega Max 300-plus is capable of holding 50 percent more product than a conventional trailer. It features a lower deck and adjustable roof system, which means it can hold three layers of product instead of only two, as the old trailers do.
BENEFITS
Schlüter Systems North America President Reinhard Plank said that means the amount of product that took three deliveries now takes only two. Plank said that will also result in fewer trucks on the road and a subsequent reduction in exhaust emissions. "It's another way for the company to benefit the environment," Plank said.
CUSTOM DESIGN
He said they were approached by Ton Holten of Holten Impex, a tile-supply distributor based in Ontario that has its own transportation subsidiary, Holten Transportation.
Holten had noticed a chance to improve the load capacity for shipments of Ditra uncoupling membrane from Schlüter Systems to their distribution center. Two years later, the new equipment made its first trip to Plattsburgh.
Holten said the trailer was built by Manac. The flatbed features a specially modified neck and a retractable roof that can be raised during the loading and unloading process, then lowered to meet highway overhead-clearance standards.
The new trailer required a specially designed Peterbilt tractor.
"We had to talk to quite a few companies," Holten said.
It rides on smaller than standard wheels, which are the lowest height still capable of meeting weight-capacity standards. Even the fifth wheel was a bit of a challenge, Holten said, to provide a lower connection than usual. The tractor's tires were specially designed by Continental Tire and are 3/4-inch smaller was previously available. They are the first of their kind available in North America, Holten said. Both the tractor and trailer were assembled in Canada. The curtainside covers feature prominent Schlüter Systems artwork, including the phrase "Trucking 50 percent more Ditra — Emitting 50 percent less CO2."
LEADERSHIP CHANGE
Thursday marked Plank's last official day as president of Schlüter Systems North America. He plans to continue to work on some special projects, but his day-to-day role will be filled by incoming President Marco Ludwig.
Plank started with the company in 1986. He was there with company founder Werner Schlüter when they acquired the land in the Town of Plattsburgh in 1990. The company has grown from one small warehousing space to a massive campus on Pleasant Ridge Road. "I don't think in our wildest dreams Mr. Schlüter or I could have imagined this would happen," he said.
GREEN EFFORTS
The company's conservation efforts in Plattsburgh include geo-thermal heating and cooling in their office building and a commitment to recycle all of the metal punchouts created during manufacture of their tile accessories.
Plank said their latest warehouse addition was constructed to meet LEEDS Gold Standards, with systems such as a solar array that pre-heats the air used to heat the facility.